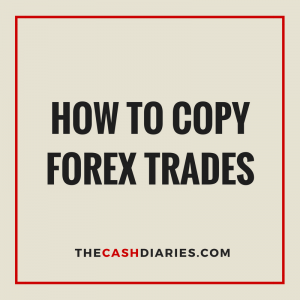 Have you tried copy trading before? It's where you automatically copy the trades of more experienced traders. It's a great way to learn more about trading, while getting real world experience.
So in this post i'm going to take you through step by step how to get started copytrading.
Using eToro for Copy Trading
For this guide i'm going to be using eToro. eToro is my personal trading platform of choice. It has over 5 million members, a huge range of markets to trade in (not just forex but stocks, commodities, etfs and cryptos too), and a great interface.
eToro also has the largest number of potential traders to copy. Many copy trading platforms fall down simply because they don't have a large enough pool of traders to copy. eToro also has the best tools for searching and finding the right traders to copy. eToro gives you all the stats you need to make sure you're not copying traders who aren't suitable for your investment goals.
How Does Copying Forex on eToro Work
So how does copying forex trades on eToro work? Well you can allocate funds to a trader. They don't have access to these funds. It simply means that whenever the trader makes a trade, the same trade will be opened in your account using the allocated funds.
So that's why I've chosen eToro for this post. Read on to find out how to actually get started copying forex trades on the platform…
Creating an eToro Account
First things first you'll need to create an account. Creating an account on eToro is free. However if you do want to make money on the platform, you do need to make a deposit. You can start copy trading on eToro with as little as $200. If that's not something you're willing to part with, then this probably isn't the right strategy for you.
However, you can also do everything I show in this post with a free virtual account on eToro. This virtual/practice account lets you trade/copytrade under real conditions but using virtual money. If you're completely new to forex then I would recommend starting with a practice account on eToro. You can switch between a practice and real account, instantly and you can trade in both at the same time.
Grab a free eToro account here (Disclaimer: 78% of retail CFD accounts lose money)
Decide whether or not you want to deposit
Complete verification.
The signup process is really simple, depending on where you live you may need to complete some verification steps. This is because eToro is a regulated broker and need to make sure you are who you say you are.
Finding a trader to copy
Finding a trader to copy is the most important step. Don't just copy the first trader you see on eToro.
To find the right traders you can use the advanced search tool to narrow down and find quality traders. Below are the settings I use to search for traders and I believe they are a good starting point. You may want to adjust these depending on how much risk you wish to take on.
It's also worth noting that eToro isn't just a forex broker. They have a large range of other markets to trade in. These include stocks from all over the world, cryptocurrencies, ETFs, commodities and more. You may wish to only copy traders who invest in forex, or you may wish to expand into other markets. It's up to you to decide.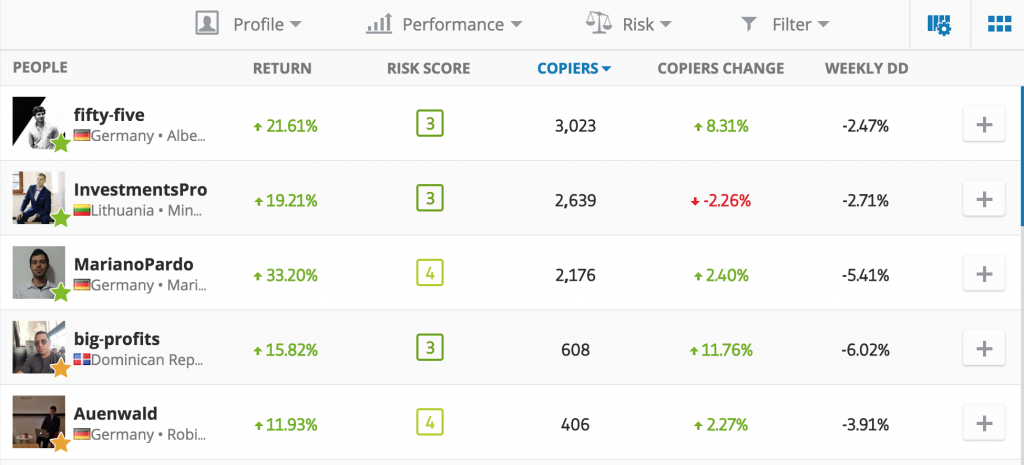 Search Setttings for eToro
You can find the search tool on the "People" page within eToro. Just click on the "advanced search" on that page to bring up these settings.
Trading Experience: Don't copy a trader with less than 12 months trading history on eToro. It's easy to get lucky with one or two trades. It's hard to be a profitable trader over a long period of time. That's why I only copy traders who have lots of history on eToro.
Profitable Months: I like to change this to high. Although all traders have bad months, I generally feel the more profitable months the better. Makes sense right. So I search for traders who have at least 80% profitable months.
Return: My advice here is to be realistic. Sure traders can sometime deliver insane 100%+ returns. However in order to do this they are taking on a lot of risk. So stay away from traders with those type of returns. It's not a long term strategy and is bound to fail. 10% annual return is a good starting place.
Risk Score: eToro gives each trader a risk score. This score is based on the % of capital they allocate to each trade (the lower the better), what markets they trade, and what leverage they use. The lower the risk score, the better. I aim to only copy traders with a risk score between 1-4.
They are the main search settings you'll be using to begin with. As you become more familiar with the platform, I would recommend looking into the drawdown settings as this can be a good indicator of sensible trading.
And remember you can filter traders by the "Allocation". This lets you choose traders who mainly trade forex or mainly trade stocks etc. You may want to stay away from traders who trade Cryptocurrency – just because you feel it's a little too volatile.
I regularly review traders on this blog. Here are 5 traders you might want to check out.
Copying a trader
Once you've found a trader to copy, its actually really easy to copy their trades as eToro automates this process.
To copy a trader, just click the big blue "copy" button on the trader's profile page. From there you can choose to allocate funds. Remember the trader never has access to these funds. It's simply a way to tell eToro that you want these funds to be used to copy the trades. The funds stay in your account and you can stop copying at any time.
eToro lets you set a stop loss for copy trading. This means that if the allocated funds drop below a certain amount, you'll automatically stop copying this user. This is a good way to protect your account funds from wild market movements and rogue trades. Make sure you leave a little wiggle room in this number. All traders will drawdown. Your account won't profit straight away (unless you're really lucky) and you may see it dip a little bit to begin with. This is completely normal. Copying a trader isn't an overnight money making strategy. It's something that works best over a number of months.
Diversifying Your Copytrading Portfolio
Once you've copied one person, you may want to start thinking about expanding and diversifying your portfolio. Just like all investments, copytrading is no different – diversity is a good thing! You can copytrade multiple people on eToro. I like to mix traders by copying some people who invest mainly in stocks and some that invest in forex. This way I can potentially profit from all different market conditions.
Find out more about eToro here.
---
Disclaimer: eToro is a multi-asset platform which offers both investing in stocks and cryptoassets, as well as trading CFDs.
Please note that CFDs are complex instruments and come with a high risk of losing money rapidly due to leverage. 78% of retail investor accounts lose money when trading CFDs with this provider. You should consider whether you understand how CFDs work, and whether you can afford to take the high risk of losing your money.
Past performance is not an indication of future results.
Cryptoassets are volatile instruments which can fluctuate widely in a very short timeframe and therefore are not appropriate for all investors. Other than via CFDs, trading cryptoassets is unregulated and therefore is not supervised by any EU regulatory framework.
eToro USA LLC does not offer CFDs and makes no representation and assumes no liability as to the accuracy or completeness of the content of this publication, which has been prepared by our partner utilizing publicly available non-entity specific information about eToro.