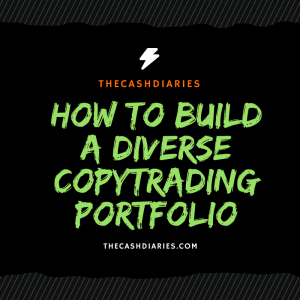 You're probably sick of hearing about diversification. But there's probably a good reason why you keep hearing it, and why it's important.
If you've tried copy trading before and lost your money, one of the reasons may have been putting all your eggs in the one basket. Like all investments, it pays to diversify in copy trading too. So I'm going to share with you some tips on how to put together a diverse copy trading portfolio.
In this post, I'm using eToro as my copy trading platform of choice. While there are other platforms out there, none of them compare in my opinion. eToro has the most traders to copy, with the most markets to trade and the best copy trading tools.
How many traders should you copy
When most people first try eToro, they start by copying one trader. If a trader has gained say 20% over the past 12 months without a single month in the red, it seems like this is a safe bet. I've been using eToro long enough to know that this isn't always the case. ALL traders have bad months eventually.
One way to protect against this this is to copy trade multiple people. I can't give a definitive number on how many people you should copy, instead you should try and follow the following tips which will help you seek out new traders to copy and hopefully diversify your portfolio a bit.
Investing in Stocks
When eToro first launched, they only had Forex (and commodities). And they added stocks a few years later. Forex is a volatile market. It can have massive swings – more so than stock markets. So one way to avoid some of this volatility is to copy traders who invest in stocks.
I've found that traders who invest in stocks, generally hold onto their positions for much longer than forex traders.
Investing in Cryptocurrency
Cryptocurrency is an exciting new space to invest in. It has potential for huge returns and also lots of volatility. You definitely should only copy traders who invest in cryptocurrency. This is just a recipe for disaster. But I think it could be smart to dedicate a small part of your portfolio to cryptocurrency. If cryptocurrency does take off then this puts you in a good position to cash in, but if it doesn't you won't wipe out your investment because it's such a small part of your overall portfolio.
So don't be afraid to diversify into cryptocurrency, just make sure you keep it a small part of your portfolio.
Investing in Different Trading Styles
Diversification isn't just about markets it's also all about trading style. Some traders using hedging strategies to invest small amounts in many, many positons. Other traders will go long to cash in on more fundamental market moves.
One way to diversify is to invest in various trading strategies. You'll find that many traders share information on their strategy on their profile.
Using Stop Loss
eToro has a stop loss feature that will close your copy trading position if it drops below a certain amount. You should use this feature. It will protect your portfolio from being completely wiped out by a single trader. Just make sure you don't set it too high. Traders need a certain amount of drawdown to make their strategy work. If your stop loss is too high, your position will be closed and the trading strategy won't work.
Investing in CopyPortfolios
One other way to diversify on eToro is to invest in CopyPortfolios. CopyPortfolios group together a number of underlying assets into a single portfolio. Some of these CopyPortfolios group together the top performing traders on eToro. Other group together similarly themed assets (such as gaming stocks) into a portfolio. By default CopyPortfolios are already pretty diverse.
How much does it cost to diversify
The minimum amount you can copy trade a user with is $200. So if you're looking to build a diverse portfolio you're going to need at least $600 in my opinion. You could build this up over time or even take out profits from one copy trading investment to fund new ones.
You can find out more about eToro here
---
Disclaimer: eToro is a multi-asset platform which offers both investing in stocks and cryptoassets, as well as trading CFDs.
Please note that CFDs are complex instruments and come with a high risk of losing money rapidly due to leverage. 78% of retail investor accounts lose money when trading CFDs with this provider. You should consider whether you understand how CFDs work, and whether you can afford to take the high risk of losing your money.
Past performance is not an indication of future results.
Cryptoassets are volatile instruments which can fluctuate widely in a very short timeframe and therefore are not appropriate for all investors. Other than via CFDs, trading cryptoassets is unregulated and therefore is not supervised by any EU regulatory framework.
eToro USA LLC does not offer CFDs and makes no representation and assumes no liability as to the accuracy or completeness of the content of this publication, which has been prepared by our partner utilizing publicly available non-entity specific information about eToro.