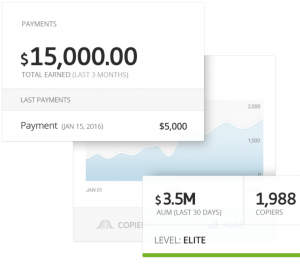 eToro is one of the worlds largest copy trading platforms. On eToro, you can automatically copy the trades made by others. When you copytrade, whenever a copied trader makes a trade, your account does too. In return for making the trades and being a successful trader, eToro rewards these people. This is known as the "Popular Investor" program.
In this post I'm going to break what makes a top popular investor and how you too can reap the rewards.
Why Become a Popular Investor?
Becoming a popular investor on eToro brings with it some great benefits:
Cash Rewards
There are 4 levels in the popular investor program. The first level won't pay you, but at the very top end you'll earn a massive $1k + 2% AUM. Seeing as some investors have hundreds of thousands of dollars under management, you can see how profitable this could be.

Other Perks
eToro gives you some other perks as well including a financial times subscription and marketing exposure.
How to Become a Popular Investor
First and foremost, you need to be a good trader. If you've never traded before and think you can sign up with eToro, make a couple of winning trades and think you'll become a popular investor, you're a fool. The best traders on eToro have been trading for many years.
You don't need any special qualifications like university degree. I know traders who are self taught and super successful. You just need to be good. The only way to get good is through practice.
One of the things I tell people before copying traders is to make sure they have more than 12 months trading history on eToro. So the sooner you sign up and start trading on eToro the better. This way you can build up your history
Number of Copiers
You'll become part of the Popular Investor program when people start copying you on eToro. You need just one person to copy you. To reach the highest tier of the program you'll need more than $500k AUM (assets under management). That means that the total number of copiers have allocated at least $500k to follow you. Reaching that level isn't impossible. Remember eToro has over 5 million members. I'm sure some of them have very large positions on eToro.
Trading Capital
You'll need a small amount of capital to begin trading as a popular investor. Remember on eToro you only ever trade with your own account capital. When you make a trade, a copied trader will make the same trade using their account capital. When someone copies you, that money is set aside to make the same trades your account makes in the same proportions. You never get access to this capital. That's one of the reasons why people trust and use eToro.
Trading Style
You'll also need to make sure you have a lower risk trading strategy. That means using a small % of your account capital for each trade and using a low amount of leverage. eToro assigns risk scores to traders – the lower the better.
Ideas on how to become a Top Popular Investor
So are you ready to become one of the top traders on eToro? Here are some ideas on how to get there:
Trade Regularly
Copiers like to see their money getting invested. They don't like copying someone and then having to wait months for them to make a trade. So make sure you are trading regularly. This doesn't mean you need to overtrade. Just check into the platform on a regular basis and don't stop trading for months at a time.
Specialize
Personally I like top copy traders who focus on a particular strategy or asset class. Make sure you come to eToro with a well defined trading strategy. It may be tempting to trade things you don't really know on eToro as there are so many different markets. But the best traders stick to a strategy over the long term.
Share your strategy on your feed
One of the great things about eToro is that it's part educational. When you copy someone, you learn about trading. So be a good Popular Investor and share details of your strategy on your feed. One post a week is more than enough. Don't be the guy who spams every asset page with self promo comments. Keep your comments to your own feed.
Answer questions on your feed
Copiers will from time to time ask questions on your feed. The best traders jump in and interact with their copiers. Many copiers won't have a huge amount of trading experience so help them understand why their positions might be down or why the market is flat for example.
Start your own trading blog
One of the best ways to grow your eToro profile is to expand beyond eToro. Some of the top traders have started their own trading blogs. This will give you the opportunity to write more detailed posts about your trading as well as giving you potentially more income streams. Trading blogs can be very profitable.
Promote your trading on Twitter and Instagram
Promote your trading lifestyle through Twitter and Instagram. Building a good following on eToro is 95% your trading and 5% your personal brand. And you'll potentially open your profile up to a whole slew of people who have never heard about eToro before.
So these are my top tips on becoming a popular investor. Let me know in the comments your experience with the program – and if you are a trader on eToro, drop your link in the comments so I can check your profile out.
You sign up for free eToro account here
---
Disclaimer: eToro is a multi-asset platform which offers both investing in stocks and cryptoassets, as well as trading CFDs.
Please note that CFDs are complex instruments and come with a high risk of losing money rapidly due to leverage. 78% of retail investor accounts lose money when trading CFDs with this provider. You should consider whether you understand how CFDs work, and whether you can afford to take the high risk of losing your money.
Past performance is not an indication of future results.
Cryptoassets are volatile instruments which can fluctuate widely in a very short timeframe and therefore are not appropriate for all investors. Other than via CFDs, trading cryptoassets is unregulated and therefore is not supervised by any EU regulatory framework.
eToro USA LLC does not offer CFDs and makes no representation and assumes no liability as to the accuracy or completeness of the content of this publication, which has been prepared by our partner utilizing publicly available non-entity specific information about eToro.