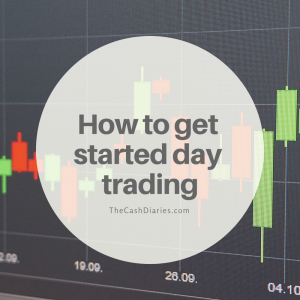 So in this post I'm going to give you some tips on how you can get started day trading with just $200.  By no means, will this make you a good day trader – that will take hard work.  But everyone has to start somewhere.
Learning the Basics
So where do you begin?  Well before you even think about putting money into a trading account you need to learn the basics of trading.  The following is what I recommend most people start with.
Learning how to Read Charts
Almost every trading tutorial includes some kind of chart.  Learning how to read a chart is essential.  There are countless resources out there.  Just google, "how to read a chart" and you'll find lots of videos on youtube and easy to read guides.  Once you can read a chart you can move on to learning about why an asset will rise or fall in value…
Learning about Technical Analysis
Technical analysis is all about reading charts and trying to find the right place to buy or sell an asset (such as a stock or a  forex pair etc).  Technical analysis is usually used by all day traders and so it's an essential skill.
The best way to learn this is by following another trader.   I like to do this through copy trading on eToro.  While you can watch videos that will explain technical analysis, it's much more interesting when you see it happen in real life.
You could join a trading group which will share examples of technical analysis or if you want a free option you could also try Trading View – a site where traders share there reasoning and analysis behind their trades.
Learning Fundamental Analysis
Fundamental Analysis is about understand the fundamental forces which push the price of a stock (or other asset) up or down.  Fundamental forces are always going to have a far greater impact then technical forces.  A technical force might be the price of a stock breaking through a resistance barrier.  It might cause the price of the stock to continue with an upwards surge.  A fundamental force is something much more powerful.  It could be a certain President getting elected in the U.S or some damming economic news being released.  These events will push the price of the stock up or down with much greater force.
So understanding these fundamental forces is extremely important.  But don't worry it's not difficult.  To get started all you need to do is follow a economic calendar which will show you all the upcoming events which could impact the price of the stock (be warned though that unexpected events happen all the time and have a far greater impact).
Read to Learn
Remember that as a trader you never stop learning.  The more you read the better you'll become.  When you don't understand something in trading – don't just skip over it.  Look it up and find out more.  Be curious!  The most successful traders are those who are willing to spend that extra 20 minutes learning more than their competitors.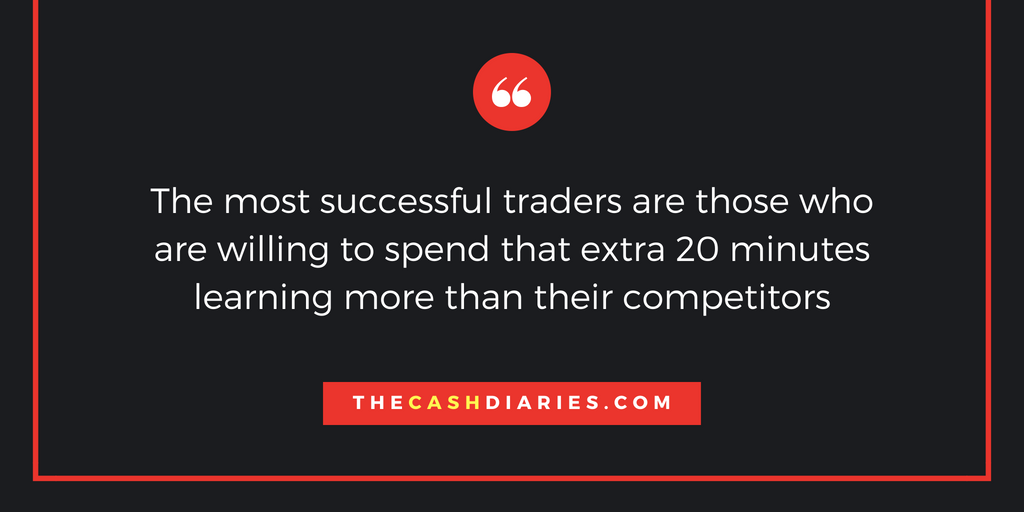 Starting out Practice Trading
So once you've done a bit of learning, I would recommend you start trading with a practice account as soon as possible.  I've always found that I've been able to grasp a concept much faster, when I actually get to put it into practice.
Practice trading is free and you get to experience trading under real world conditions but without having to risk any money.
I always say that if you can't make any money in a practice trading account, you'll never be able to make real money in a real account.
Learning by Copy Trading
Another great way to learn about day trading is by copy trading.  When you copy trade, you automatically copy the trades of a more experienced trader.  eToro is my favorite copy trading platform.  And it's also a social trading platform – traders often share details on market conditions and why they have been trading or not trading.  It's a great way to learn.  You can follow traders on eToro just like you would on Twitter or Facebook.
Day Trading Cryptocurrency
Most day traders get started in stocks and forex.  But more recently I've seen more and more traders turn to cryptocurrency.  While it can be extremely profitable because the markets are so volatile, it may not be the best place for beginners.  However for intermediate or advanced traders, cryptocurrency offers an exciting opportunity.  For starters, there are no "days" anymore as trading happens everyday without any breaks.    You can invest in Cryptocurrency alongside traditional markets on platforms such as eToro or Plus500.
Trading Your Knowledge
After you've been day trading for a while, you should start looking at expanding your revenue and creating a more consistent revenue stream.  You could start a private members group or write an ebook to sell via amazon etc.
A platform like eToro will reward you for sharing your trades.  The more successful your trades are the more people will copy you.  Many traders on eToro (and other similar platforms), spend as much time trading as they do growing their following and community.
Getting Started with $200
So are you ready to start day trading?
The good news is that you no longer need thousands of dollars to get started with a trading account.  You can sign up for a trading account with as little as $200.
My platform of choice is obviously eToro – but there are countless others.  Just make sure you choose a broker with a good reputation, that is regulated, and offers a solid trading platform.
How to start on eToro
Register an account (Disclaimer: 78% of retail CFD accounts lose money)
Verify your account – the verification process varies based on which country you're from.  Generally it only takes a couple of minutes.
Deposit – you can deposit using a credit card, bank account, paypal etc.
Or Start with a Practice account – if you're not ready to start trading with real money, then you can trade using a free practice account on eToro.