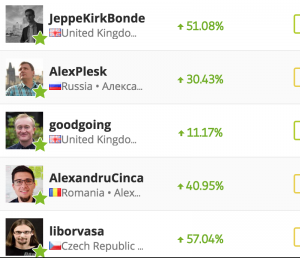 Copy Trading is a trading feature that allows you to automatically copy the trades made by more experienced traders. It's a legitimate way to trade, a good way to learn more about trading.
But how much does it actually cost to get started and what are the ongoing fees and costs involved? In this post i'm going to break down how much copytrading on eToro costs.
CopyTrading on eToro
For this post I'm going to be focusing on eToro. They are one of the largest copy trading platforms with over 5 million members, and in my opinion the best platform to copytrade on. eToro is my platform of choice and I've been using it for the past 5 years.
How much does it cost to start copytrading?
eToro has some minimum investment requirements. These make good sense. See when allocate funds towards a trader for copytrading, those funds will be used to make every trade, the copied trader makes. And those trades are made using the same capital proportions. So if a copied trader makes a trade with 1% of their account capital, that same trade will be made using 1% of the allocated funds. If you allocated $200 this would obviously be $2. So if eToro allowed you to allocate tiny amounts of capital for copy trading, the trade sizes would be so small they would barely register.
The minimum amount needed to copy a trader is $200. This strikes a good balance between being affordable for many people yet a large enough amount of capital for the trade sizes to not be ridiculous.
eToro also has a $200 minimum first time deposit. Which again makes sense. If you were to deposit less than $200 you wouldn't be able to do a whole lot on the platform. Sure you could make some manual trades but I have a feeling eToro wants most people to get started with copytrading so they don't make silly trading mistakes and wipe out their accounts.
So to begin copytrading you will need at least $200.
Should you copytrade with just $200?
I don't think there is anything inherently wrong starting with just $200 on eToro. Some people say you should start with more, but I'm a believer in never investing more than you can afford to lose. I also believe in diversification. So if you want to copytrade multiple people you'll obviously need more than $200. My advice is to start slow, get familiar with the platform and how copytrading works, and then start to diversify your portfolio.
How does eToro make money?
eToro makes money from whats known as the spread. This is the price difference between the buy and sell prices. In beginners terms, when you open a "buy" or long position on eToro, it will be opened at the sell price, which is slightly lower (or a few pips lower) then the buy price. So basically every time you open a trade eToro makes a little money. And this same spread applies to copytrading as well. So when a copied trader makes a trade, and your account does too, a spread will be applied.
Other costs you need to know about
eToro does charge a withdrawal fee. I don't like this fee and think eToro needs to remove it. It's not a common practice for brokers to charge this fee. I'm not sure of the reasoning behind it either – is it to prevent investors panicking and think twice before making rash withdrawals? I don't know. But it's something you should be aware of when you open an account and trade on eToro.
You can find out more about copytrading here
---
Disclaimer: eToro is a multi-asset platform which offers both investing in stocks and cryptoassets, as well as trading CFDs.
Please note that CFDs are complex instruments and come with a high risk of losing money rapidly due to leverage. 78% of retail investor accounts lose money when trading CFDs with this provider. You should consider whether you understand how CFDs work, and whether you can afford to take the high risk of losing your money.
Past performance is not an indication of future results.
Cryptoassets are volatile instruments which can fluctuate widely in a very short timeframe and therefore are not appropriate for all investors. Other than via CFDs, trading cryptoassets is unregulated and therefore is not supervised by any EU regulatory framework.
eToro USA LLC does not offer CFDs and makes no representation and assumes no liability as to the accuracy or completeness of the content of this publication, which has been prepared by our partner utilizing publicly available non-entity specific information about eToro.