Info – This content does not apply to U.S users
I've been using eToro for the past few years with great success, so I thought I'd put together an eToro review for 2020.  I want to share with you how I use it to trade and how you can too.  The platform has been evolving over the past few years with new features and new ways to invest.  So read on to find out if it's right for you.
CFD Disclaimer: 67% of retail investor accounts lose money when trading CFDs with this provider. You should consider whether you can afford to take the high risk of losing your money.
Quick eToro Overview
eToro is one of the worlds largest trading platforms.  Here are the vital stats so you can compare it to other brokers:
Founded: 2007
Users: Over 8 million
Markets: Forex, Stocks, Commodities, ETFs, Cryptocurrencies
Minimum Deposit: $200
Regulated:Regulated by FCA, CySEC and ASIC
Available: eToro is now available worldwide.  They have are registered in the UK, EU and now in Australia.
What is Copy Trading
eToro can be used as both a regular broker and a copy trading platform.  When you copy trade, you automatically copy the trades of successful guru traders.  On eToro, you can browse through the profiles of traders, and when you find someone you like, you simply click a button to copy.

When you copy a trader you allocate a portion of your account funds to this trader.  Don't worry, they don't actually get this money, it just means that whenever that trader makes a trade, your account will make that trade as well.  So when the trader profits, you profit too.
It's a great concept and eToro are the market leaders in this space.  There are literally millions of traders you can potentially copy trade.
You can view the top traders on eToro here (no account needed).
Disclaimer: This is not investment advice. Your capital is at risk.
eToro Popular Investors
The traders you copy on eToro are known as "Popular Investors".  This program rewards traders who are copied with a number of perks.  Anyone can become a popular investor on eToro.  You just need to have consistent results and fill out your profile information.
All the traders you copy on eToro are trading using their own money.  This is an important part of the platform and ensures that traders are invested in your success.  Some platforms allow the traders to use demo or virtual accounts.  And in my experience they don't produce good results.
If you're a talented trader then you can earn a second income by trading on eToro and sharing them for copytrading.  If you're new to trading then you can benefit from these more experienced traders through copy trading.
Getting Started on eToro
Getting started on eToro takes just a few minutes.  Here's how to get up and running:
Register an Account – registering an account is quick and easy.  And it's free.  You can join and even trade using virtual money.
Make a Deposit – You can get started on eToro with as little as $200.
Copy some Traders – Although you can open manual trades on your own, I recommend copy trading for most people.  I've included some tips in this review below on how to find traders to copy.
eToro Markets Review
eToro offers one of the most comprehensive selections of assets to trade.  They offer all the major forex pairs, stocks from all over the world and more recently cryptocurrencies.  Here are some highlights of what you can trade on eToro:
Forex
eToro got it's start as a broker in forex.  They currently offer all the major forex pairs as well as some of the more exotic ones.
Stocks
You can buy and sell  read stocks at 1:1 leverage or cfd stocks from markets all over the world.  All the popular stocks are available in a number of different markets.
Commodities
As you'd expect you can trade Gold, Silver Oil and a number of other commodities.
ETFs
eToro more recently added ETF trading.  They offer popular ETFs including those from Blackrock (iShares).
Cryptocurrencies
eToro added Cryptocurrency trading a couple of years ago.  And they have added new cryptos at a regular pace.  You can now trade cryptos including Bitcoin, Ethereum, Ripple, Dash and more.
The eToro Platform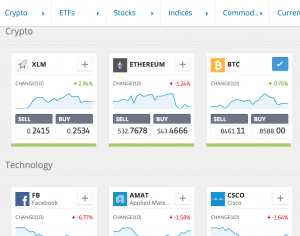 On eToro you trade through the Web Trader platform.  This is a proprietary platform built by eToro and in my opinion is light years ahead of any other webtrader.   Because eToro uses a web trader, there is no need to download any software – the HTML5 platform will work right out of the box in all popular browsers.  eToro also offers a mobile app, that is built on the same platform for mobile trading.
I'm going to take you through some of the features of the web trader, so you can get a good idea of what's available:
Copy People
The copy people screen is where you should first look when you join eToro.  From here you can browse through the profiles of traders on eToro.  Using the filter tools, you can also search for traders based on things such as their returns, risk level, drawdown and more.   I've included a section in this etoro review below on how to find people to copy.
Trade Markets
If you're looking to open trades on your own (such as buying Apple stock etc), then this can be done on the "Trade Markets" page.  This page lists everything that can be traded on eToro.
Watchlist
The watchlist lets you keep track of markets and people without needing to invest.  Whenever you "follow" something on eToro it gets added to this page.  You can track people on this page too – I often add people to my watchlist before copying them.  I treat this as my shortlist and then make a final decision after I've seen their performance for a little while.
Portfolio
This contains everything you've invested in.  It includes the people you're copy trading and any manual trades you've opened.  You'll see a profit and loss next to it.

Charts
eToro has some really powerful charting tools.  Unfortunately they are hidden away a bit.    Here's a direct link to the Pro Charts.  Using Pro Charts you can display up to 6 charts on the one screen and overlay technical analysis tools and annotations.  If you're using eToro to manually trade, then I recommend you bookmark the link above.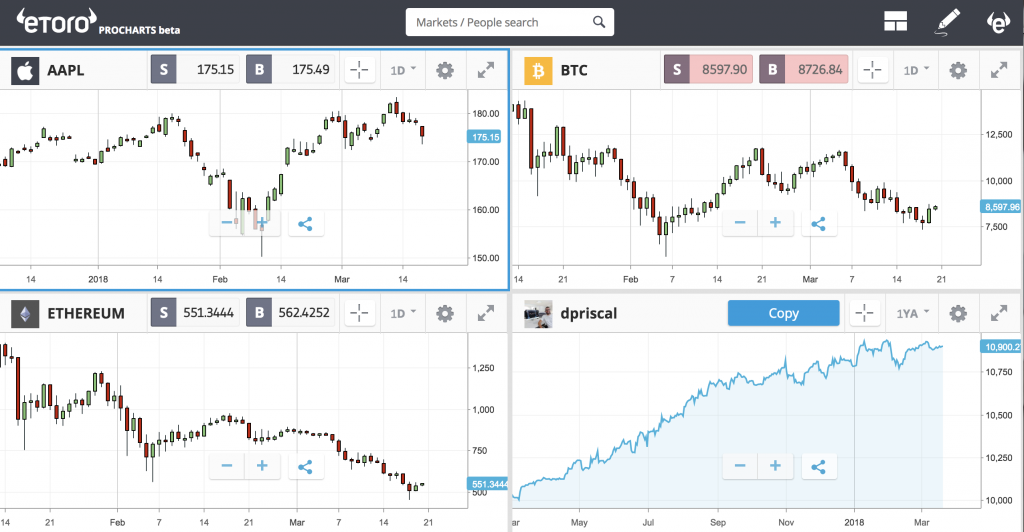 Research
The research tool is available on the stocks page.  This powerful page shows you how expert advisors are currently trading that stock.    You'll get the analyst recommendation (whether to buy, sell or hold), links to analyst articles on why they are making these calls and even hedge fund activity.  If you're a stock trader than this page will be absolutely crucial to your success.  It's a feature many people don't know exist on eToro but it's super powerful.

Finding Traders to Copy
One of the most important parts of eToro is the copy trading feature.  And if you want to have success on copy trader, you can't just follow the first people you come across.  After using the platform for a number of years, I've come up with some top tips for finding the right traders to copy on eToro.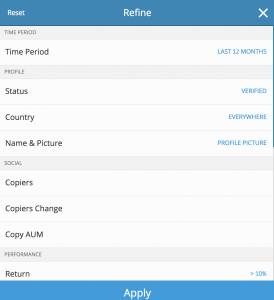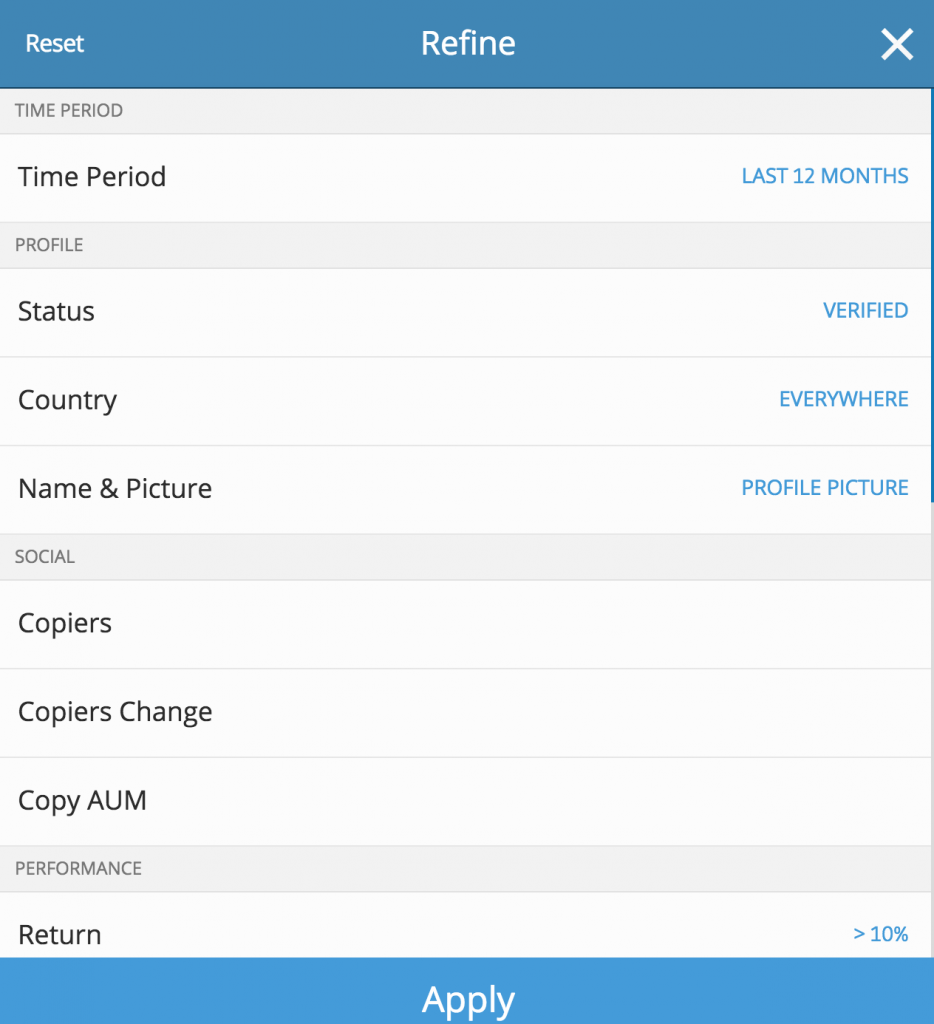 These are the things you should be looking for in every trader you copy.  Use the "Refine" tool on eToro to plug in these numbers:
Minimum Time Period
Any person can get lucky and make one or two good trades.  But it takes skill to make money consistently from trading.  So don't copy trade anyone on eToro who has less than 12 months of stats on the platform.  This way you can really evaluate a trader over the longer term.
Return
It's not really worth copying a trader who makes a return of just 1% a year.  On the other hand though, you also don't want to copy someone who has to high of a return.  Why?  Because it's a dead giveaway that the trader is potentially using too much leverage and using too much of their capital on each trade.  I've seen traders time and time again have one huge month of 300%+ returns and then lose everything.  So I tend to only copy trade people who have returns of around 10-20%.
Risk Score
eToro uses a risk score to let potential investors know how risky a potential trader will be.  The lower the score the better.  I tend to aim to copy traders with a score of 1-4.  Any higher and I've noticed that the results get much worse.    The score is calculated based on the markets the investor trades in (Bitcoin will give a higher score, while bonds will give a lower for example), the leverage and the % of capital allocated to each trade.
Drawdown
The lower the drawdown the better.  A weekly drawdown of less than 10% is a good place to be.  This means that the difference between the highest and lowest points is less than 10%.  All traders will drawdown at some point – it's just how trading works.  Just don't copy people with high weekly drawdowns as it means they aren't very good at risk and trade management.
Allocation
You can filter people on eToro by what they trade in.  If you're big into cryptocurrency you might want to copy people who mainly trade bitcoin etc.  Or you might want to avoid these people.
Activity
Personally I don't like copying people who only make one or two trades every few months.  I like to see my money actually working for me.  Some people don't mind low activity and believe the best traders only jump into the markets when the conditions are perfect.  I'll leave this one up to you.  In my experience, stock traders on eToro tend to be the least active (which is fine) and forex traders tend to be the most active.  So it might not be best to follow a low activity forex trader.  The activity rating is based on how many weeks a trader is active.
Practice Trading Account
You're never going to make any money if you choose not to deposit some cash to begin with.  However, I also don't want you to rush into any investment decision – even if it's just $200!  You can do everything I've mentioned in this review using a virtual account.
When you sign up for eToro, you are automatically given a real and virtual trading account and you can switch between the two at anytime.  So even if you have deposited funds, you might want to test out trades, or practice your skills by using your virtual account.  You get $100k in virtual funds to trade with and this can be invested in manual trades and copy trades.
Practice trading is a great way to learn about investing.   If you're not going to copy trade, then I would recommend starting with a virtual account before making trades in your real account.  If you can't make a profit in your virtual account, you'll probably just end up losing money if you try it in your real account.
You can open a virtual account directly here
Disclaimer: 67% of retail investor accounts lose money when trading CFDs with this provider. You should consider whether you can afford to take the high risk of losing your money
Investing in CopyPortfolios
eToro launched their CopyPortfolios product in 2016.  These portfolios group together a number of investments and allow you to invest in them in one investment.   The portfolios are automatically rebalanced every month and managed for free by eToro.    But the minimum investment amount is $5k.  So this is more of a serious long term investment for those with larger amounts of capital.  You can invest in CopyPortfolios through the web trader and you can buy into and sell out of your position at anytime.
There are three different types of CopyPortfolios you can invest in on eToro and I'll take you through them below:
Market CopyPortfolios
These portfolios group together a number of assets based around a common theme.  For example the Big Tech CopyPortfolio invests in a bunch of big tech stocks.  The CRISPR CopyPortfolio invests in companies that are developing CRISPR biotech.  It's a great way to gain exposure to certain markets that you believe in.  For example, I'm a big believer in video games.  The Gaming CopyPortfolio invests in a bunch of gaming companies.
PeopleCopyPortfolios 
These CopyPortfolios group together the top traders on eToro and allow you to invest in them all.    If you're too lazy or busy to build your own portfolio using the tips above, then you can let eToro do the picking for you.  Another bonus is that eToro will automatically rebalance everything for you.
I've put together some information on the profitability of CopyPortfolios here.
What Type of Broker is eToro
When evaluating a new broker, you should look into what type of broker they are.  Some brokers have dodgy practices and are setup to make sure you fail and lose your money.
eToro has a good reputation and has over 8 million members. .
eToro uses both straight through processing and no dealer desk technology.  This means that all trades are executed in real time without any price manipulation.  eToro traders have access to intra-bank markets and their prices.
So how does eToro make money?  Through the spread.  This is how most brokers and exchanges make a profit and eToro offers spreads that are competitive.
Fees
It's important to know what sort of fees eToro charges.  There are no commissions on trades, instead you are charged a spread.  It's important to understand what the spread is before trading – it's something that confuses absolutely newbies.  Basically the spread is the difference in price between the bid and sell prices.
You may also be charged a daily and weekend fee on open positions.  Some positions don't have this – for example if you open a long stock trade (such as buying Apple stock), without leverage, you won't be charged any ongoing fees.   Other positions such as a short stock trade, will incur a tiny daily fee.  This is premium is commonplace on all brokers and covers interest costs.
Learning More About Copy Trading and eToro
I publish a weekly newsletter which features handy tips on copy trading as well as my picks of people to copy trade.  You can sign up for free here
I'll finish this review with my top tips for making money on eToro:
My Top Tips for using eToro
Diversify
Don't put all your money into the one copy trader.  I like to invest in 3-5 different people.  eToro is like all investments,  The more you diversify the less risk you are taking on.
Set a Stop Loss
All traders make mistakes.  The best way to protect yourself is to set a stop loss.   by default eToro sets a stop loss of 20% on copy trading.  This means if a trader loses 60% you'll stop copying that trader.   I would make this even smaller if you're copying a low risk trader.
Think Long Term
If you try getting rich quick on eToro, chances are you'll fail.  eToro does take some time, and i've found searching through and finding the right people to copy does take time as well.
Use Low Leverage
If you plan to manually trade, then make sure you trade with low leverage.  The most common reason people lose money with trading online is due to over-leveraged trades.  On eToro you can trade without leverage, which can make a huge difference.
Try ETFs
eToro has recently added a whole bunch of ETFs.  An ETF or exchange traded fund, is a stock that is backed by underlying assets.  Usually a diverse portfolio of stocks, bonds and commodities.  It's a great way to invest in a broad range of assets using just one investment.
If you have any questions don't be afraid to leave a comment letting me know what you think of my etoro review 🙂
Find out more about eToro here
(Last Updated – June 2020)
Disclaimer: eToro is a multi-asset platform which offers both investing in stocks and cryptoassets, as well as trading CFD assets.
Please note that CFDs are complex instruments and come with a high risk of losing money rapidly due to leverage. Disclaimer: 67% of retail investor accounts lose money when trading CFDs with this provider. You should consider whether you understand how CFDs work, and whether you can afford to take the high risk of losing your money.
Cryptoassets are highly volatile unregulated investment product. No EU investor protection.
This content is intended for information and educational purposes only and should not be considered investment advice or investment recommendation. Past performance is not an indication of future results. Trading history presented is less than 5 complete years and may not suffice as basis for investment decision. This is not investment advice
eToro USA LLC does not offer CFDs and makes no representation and assumes no liability as to the accuracy or completeness of the content of this publication, which has been prepared by our partner utilizing publicly available non-entity specific information about eToro.