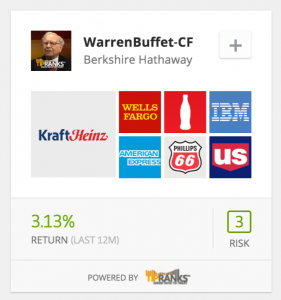 Last year etoro launched a new investment product called CopyPortfolios.  There were portfolios that were made up of popular stocks and groups of profitable traders.
Well now etoro is expanding and have launched something called Partner CopyPortfolios.  These portfolios are created by third parties.    These partners conduct thorough market analysis and build their funds to reflect their strategy.
For example you can now invest in a CopyPortfolios called WarrenBuffet-CF – which is based on the public filing of Berkshire Hathaway.  It's managed by TipRanks.   So now you can invest in the same companies that Warren Buffet invests in.  That's pretty damn cool.
This is a really neat idea and I love how eToro keeps adding new features.
But why would you invest in a CopyPortfolios on etoro and not invest directly in a hedge fund?   Here are some of the advantages of copy portfolios:
You can start and stop at anytime
With CopyPortfolios you're not locked in.  In fact you can close your position instantly.  This means your capital isn't locked away and you're free to start copying a new portfolio at anytime.
Full Transparency 
You can see what the portfolio is made up of and what it's investing in.  There are no mysteries and no "dark art" investing tactics.
See detailed performance reports
Want to see how the portfolio has performed over the past few months – that information is available right on the portfolio page.  It's amazing how this information is often hidden away by hedge funds.
Realtime Reports
No need to wait for monthly statements.  No need to login to a new dashboard for each portfolio you're investing in.  You can see realtime reports right from your etoro dashboard.  These investments are treated like any other investment on etoro.
At the moment there are only a few CopyPortfolios available.  I'm guessing etoro will slowly add more portfolios over time, and will only add the ones that they believe represent good value for investors.  I'm excited to see how this will grow.
You can find out more about CopyPortfolios here and whether or not they are your type of investment.  If you've tried copytrading in the past and looking for something new then I definitely recommend this.