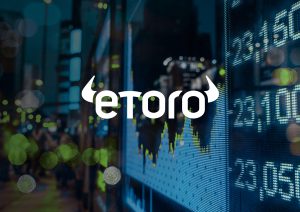 My favorite trading platform eToro, has launched real stock trading.  Previously you could invest in stocks using CFDs (contract for difference). Now however traders have the option to purchase the underlying asset.
And the best bit is, there is no management or ticket fee on purchases!
An alternative for Cryptocurrency Traders
With all the volatility in the crypto markets of late, this offering from eToro could be an attractive alternative for cryptocurrency traders.  At the very least it's a good way to diversify your portfolio.   And because it's all in the one platform, you can move your equity between markets with ease.  So if you're sick of the crypto markets at the moment, take a look at this:
Lots of Assets – One Portfolio
One of the biggest advantages of eToro is that you can trade cryptos, stocks, forex and ETFs all in the same portfolio.    And now you can own the underlying assets and not just trade CFDs.
In terms of Stocks, eToro offers markets from all over the world.  You can trade in stocks from the UK, U.S, EU and Asia.
eToro still offers CFD trading
You still get access to the benefits of CFD on eToro – if you open a short position or trade using leverage, that position will be a CFD.  But long/buy trades without leverage will actually be real stock trades.    As I mentioned before, you don't pay management, commissions or ticket fees.  You only pay the spread.
Not available in all countries
This offering is available in a lot of countries, but not all.  This is due to varying financial regulations in various countries.    For these countries you'll still have access to CFD stock trading.
Practice Stock Trading
If you're looking to try out these new upgraded stock trading features, I suggest you start with a practice account.  eToro offers a free virtual trading account that lets you trade with virtual money under real trading conditions.  It's a great way to try out the platform first hand – it's hard for me to explain all the features of eToro in a post like this, it's much easier for you to just try it out.
And don't forget eToro offers copy trading and CopyPortfolios.  These trading tools are great for less experienced traders.  With Copy Trading, you can automatically copy the trades of other, more experienced traders on eToro.  And CopyPortfolios are like managed funds that let you invest in groups of assets based around a common theme or investment strategy.