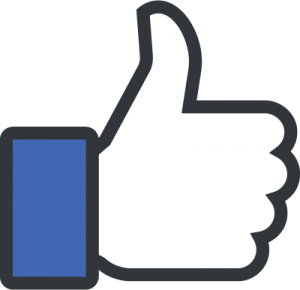 The old adage goes – buy low, sell high.
So when Facebook shares dropped to record low levels I thought I'd make a move a buy some through eToro.
Now here is a big disclaimer – Just because a share price has a huge drop, doesn't mean it's going to have a huge recovery. In fact there have been many examples of stocks that continue to fall until they are basically worthless. So remember that I make these investments partly as an experiment and partly so you guys have some entertaining things to read.
Buying stocks on eToro
eToro is my broker of choice becuase they give you access to stock markets from all over the world. In a recent post of mine I talked about how when I was a kid, I dreamed about being able to buy shares in my favorite tech companies, but at that time it just wasn't feasible. It's amazing how times have changed.
Thanks to platforms like eToro you can trade stocks from all over the world – and no you don't need to be based in the U.S. Depending on where you live you'll be trading real stocks or CFDs. Ultimately the end result isn't any different. You'll still make the same profits or losses.
You can buy stocks on eToro with as little as $50 and there are no fees if you trade with 1x leverage (aka no leverage). At higher leverage you simply pay a financing fee.
You can grab a free eToro account here
Disclaimer: 78% of retail investor accounts lose money when trading CFDs with this provider. You should consider whether you can afford to take the high risk of losing your money.
How will my Facebook Trade turn out?
Well a couple of possibilities here. One, the price of Facebook will continue to drop as investors bail out. Alternatively, this move may have been a tad of an over reaction and Facebook manages to recover. Obviously I'm betting on the latter.
Facebook owns Instagram, which is still get a huge amount of engagement. So even if engagement falls on Facebook, it should still grow on Instagram. Facebook needs to do a better job of monetising instagram without pissing off users like they did on Facebook. I think they probably will. I also believe that the changes facebook made to the platform (which caused this sell off) will ultimately be beneficial to the platform. Check out this chart below from Recode – Instagram is doing something right.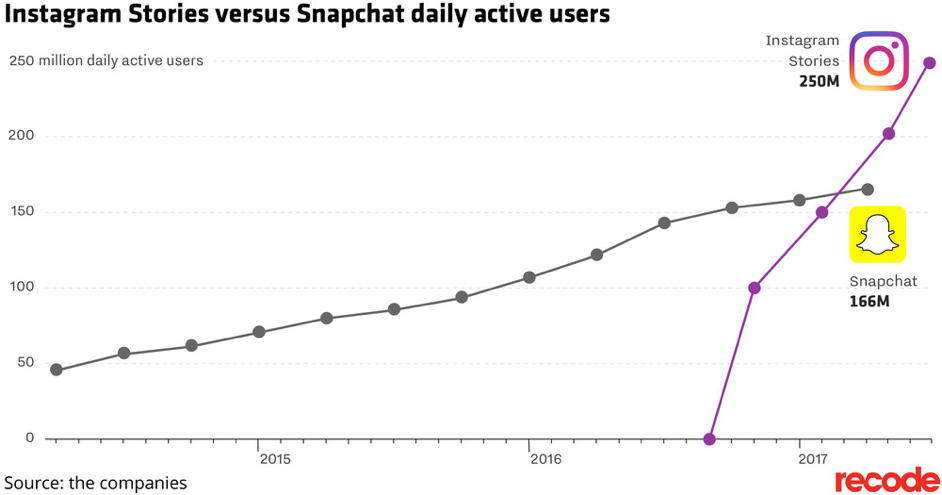 Facebook is an important tool in modern society. So while some users are deleting their accounts, I think the majority of people still have a FB account and if Facebook manages to take the product back to more like its original version (which is what they are doing), then I think this will be a minor blip.
That's just my take on Facebook and obviously you should do your own research before investing.
Should you invest in Facebook?
Never invest more than you can afford to lose. Thankfully you can invest as little as $50 on eToro. On platforms like Robinhood, you can invest even less. So if you're looking to cash in on this latest market movement, invest what you can afford to lose.
It might also be tempting to open a position on eToro with a high amount of leverage. Leverage can increase profits but it can also increase losses. So if Facebook continues to fall you could lose everything you invested.
Shorting Facebook
Now I'm obviously pretty bullish on the long term success of Facebook. However you might be the complete opposite and think Facebook is headed to oblivion. Good news – you can also short facebook through eToro. In my opinion shorting is always riskier so this is best for advanced users.
Stay Tuned
So I've just made this trade. I'll let you know either in a new post or with an update here. Make sure you follow me on Twitter to keep up to date with this investment and some of my other crazy ones too.
You can find out more about stock trading on eToro here
---
Disclaimer: eToro is a multi-asset platform which offers both investing in stocks and cryptoassets, as well as trading CFDs.
Please note that CFDs are complex instruments and come with a high risk of losing money rapidly due to leverage. 78% of retail investor accounts lose money when trading CFDs with this provider. You should consider whether you understand how CFDs work, and whether you can afford to take the high risk of losing your money.
Past performance is not an indication of future results.
Cryptoassets are volatile instruments which can fluctuate widely in a very short timeframe and therefore are not appropriate for all investors. Other than via CFDs, trading cryptoassets is unregulated and therefore is not supervised by any EU regulatory framework.
eToro USA LLC does not offer CFDs and makes no representation and assumes no liability as to the accuracy or completeness of the content of this publication, which has been prepared by our partner utilizing publicly available non-entity specific information about eToro.