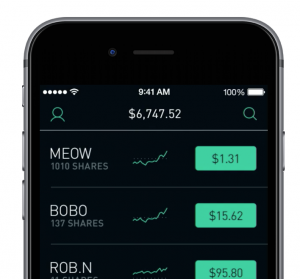 It's amazing how quickly the world of finance is changing. If I had written this post 5 years ago, it would have been completely different. Furthermore, it probably wouldn't have been about investing $1000. Why? Because investing just $1000 5 years ago would have been more expensive and your returns probably wouldn't have been worth the effort. But now, thanks to new technologies, it's easy to invest $1k.
So if you've got $1k burning a hole in your pocket, and you're wondering where's the best place to invest it, I've put together this guide for you. Here are some of the ways I recommend investing $1000. Remember, like all investments, make sure you do your own research to make sure the risk matches your goals.
Robinhood fee free stock purchase
Purchasing just $1000 worth of stock with a regular broker could end up being quite expensive. This is where an app like Robinhood is so useful. You can make fee free stock trades! Picking a stock on your own can be tricky, so this option may not be best for those who have had no experience with stocks before. Robinhood is a good option for those looking to increase there passive income with dividends.
Acorns type micro investment
If you don't want to choose the stocks and funds to invest in, why not let the experts do it for you. Micro investment apps like Acorns will invest your money in a broad range of index funds. So in simple terms, if the stock market increases in value, so will your money. You can get started on Acorns with a lot less than $1k but, I don't recommend anything under $100 as the fees will out weigh any growth.
Copytrade 2 people on eToro
This is an option for those wanting to see more aggressive growth than an index fund, but still have someone else do the choosing. With Copy Trading, when a professional trader, makes a trade, your account will automatically copy that trade too. It's kind of like investing in a hedge fund but you can choose from thousands of guru traders based on your risk and profit profile.
With $1000 you could easily copy two people on the etoro network.
Peer to Peer Loan
Although I'm haven't tried p2p lending, I know a lot of other financial bloggers who use it as part of their portfolio. You can get started with as little as $1k, which will be spread out over multiple loans. There is certainly risk involved, but this is countered by diversifying across a lot of loans, so that a single default won't destroy your investment. It's a bit hard to predict how the housing market will perform over the next few years, but if there is confidence in the economy, expect it to grow.
Pay Down your Debt
Ok, so this is a really boring option. But I had to include it as it's so often overlooked. If you've got debt – no matter what sort. It will almost always be in your best financial interests to pay that debt down. You'll save more paying it down, than you would make investing it elsewhere. So do yourself a favor and look at paying down any debt before making a new investment.
A couple of bonus higher risk options
I thought for fun I would include a couple of higher risk options for those who are really looking at an aggressive investment. With these ones, you must be able to afford to lose your investment, so these are suited to higher net worth individuals.
Buy some bitcoin
Bitcoin recently has been going up and up. One of my friends started bitcoin just as it was getting media attention the first time around. A few months later, the price crashed, and most people stopped mining. But he never switched his off, and he has been rewarded!! I don't know what the lesson here is, but sometimes if you can afford it, taking risks is the way to go. I still own a bit of bitcoin and will continue to buy if the price doesn't keep on going up.
Buy a domain name
And finally, here is an investment right out of left field. Buy a domain name! Even with the explosion of new domain extensions, the price of .com domains hasn't gone down. If you know anything about buying domains and building sites, than an investment in a domain can be extremely profitable. I recently bought a domain for $79 and it sold a few months later for $2k. It's risky, but there is definitely money out there.
So there are a few ideas for investing $1k. How will you be investing in 2017? Let me know in the comments.
---
Disclaimer: eToro is a multi-asset platform which offers both investing in stocks and cryptoassets, as well as trading CFDs.
Please note that CFDs are complex instruments and come with a high risk of losing money rapidly due to leverage. 78% of retail investor accounts lose money when trading CFDs with this provider. You should consider whether you understand how CFDs work, and whether you can afford to take the high risk of losing your money.
Past performance is not an indication of future results.
Cryptoassets are volatile instruments which can fluctuate widely in a very short timeframe and therefore are not appropriate for all investors. Other than via CFDs, trading cryptoassets is unregulated and therefore is not supervised by any EU regulatory framework.
eToro USA LLC does not offer CFDs and makes no representation and assumes no liability as to the accuracy or completeness of the content of this publication, which has been prepared by our partner utilizing publicly available non-entity specific information about eToro.