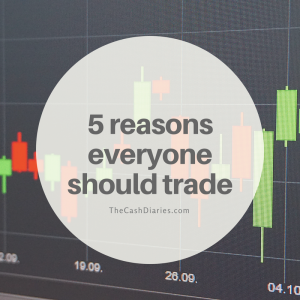 While most people start trading to make money – becoming a successful traders has many other positive side effects apart from the money. And this is why I think it's a great skill to learn. In this post I'm going to run through 5 reasons why I think that everybody should learn to trade:
Trading teaches you to control your emotions
These days, most trading books and resources have entire sections dedicated to the "trading mindset". That's because being able to control your emotions is one of the most important factors of successful trading. The idea that traders have massive egos and are arrogant jerks is not something that is true of modern successful traders. You might have been able to act like this in the 90's when everyone who bought stocks or tried their hand at day trading, would make money. And that is because the stock market just went up and up.
The reality is that traders need to be calm and calculated and trade without ego. I believe that trading has made be better at managing my emotions and this has overflowed into all areas of my life including relationships.
Trading helps you deal with failure
All traders make losing trades. Fact.
Because of this fact, you need to learn about failing, and failing fast. Being able to close a losing trade and move on, is something that I see newbie traders struggle with. The result is that a single trade can wipe out their entire trading account. Smart traders know when to walk away.
Being able to become comfortable with short term highs and short term lows will help you in all areas of life.
Trading will help you develop structure and routines
You can't be a successful trader by logging into a trading account once a week and "checking on things", and then having a holiday for the rest of the week. Most traders I know spend a lot of time each day reading news, checking charts, learning etc etc.
Many traders do this from home, so without proper routines you're never going to be successful. So through trading, you'll learn to get up earlier, dedicate time to research, etc etc.
Trading will make you use your money
Saving for savings sake seems smart, and we're told from a young age we should be doing it, but when you do the maths, that theory falls apart pretty fast. If you keep your money simply "saved" in a bank account, you're losing out to inflation.
Trading makes you use your money. You're putting it to work. So instead of saving for saving, you're now saving for investing or saving for trading. This is much much smarter. Now not everyone will win doing this – traders do lose money. But at least you're giving yourself a shot. If you just leave your money in your bank account, in 20 years, it's going to have a lot less buying power than it does today.
Trading will help you become independent.
Some people go through their entire lives, relying on others without even realising it. Trading is one of the few jobs in the world where you can truly be independent. And even if you don't trade full time, you're taking steps towards being independent and giving yourself a plan b in case something happens to your full time income.
Where to begin?
In my opinion, one of the best ways to begin trading is through copy trading. It's how I got started, and I had a lot of success with it. Copy Trading is where you automatically copy the the trades made by a more experienced trader. I use eToro as my copy trading platform of choice – it has over 5 million members and they make it easy to search, filter and find traders to follow and copy. You can grab a free eToro account here.
I've also put together a quick little guide on how to get started day trading with as little as $200.
---
Disclaimer: eToro is a multi-asset platform which offers both investing in stocks and cryptoassets, as well as trading CFDs.
Please note that CFDs are complex instruments and come with a high risk of losing money rapidly due to leverage. 78% of retail investor accounts lose money when trading CFDs with this provider. You should consider whether you understand how CFDs work, and whether you can afford to take the high risk of losing your money.
Past performance is not an indication of future results.
Cryptoassets are volatile instruments which can fluctuate widely in a very short timeframe and therefore are not appropriate for all investors. Other than via CFDs, trading cryptoassets is unregulated and therefore is not supervised by any EU regulatory framework.
eToro USA LLC does not offer CFDs and makes no representation and assumes no liability as to the accuracy or completeness of the content of this publication, which has been prepared by our partner utilizing publicly available non-entity specific information about eToro.