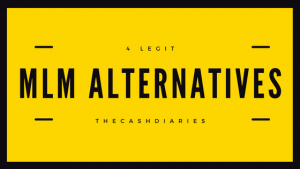 Today I was reading a great article from The Atlantic about Multi Level Marketing or MLM.  It took a deep dive into why people get into MLM and how much they can realistically expect to make.  The reality is, that although MLM looks attractive from the outside, most people will never make any real income from it.
MLM schemes are businesses where you'll sell a product (such as Avon), but you'll make way more money from inviting other people to sell under you.  Many people suspect that the bulk of income that these companies make is not from selling actual products but selling the "starter pack" and "sales materials" that new sellers are required to purchase.
In my opinion you should stay away from any business that requires you to pay an upfront fee in order to begin selling.
But what are some actual real alternatives to MLM schemes?  I've put together the following list of money making opportunities that I believe are perfectly suited to those who are attracted to MLM.
Surveys
While it isn't very glamorous, the reality is you'll probably make way more money filling out surveys then you would selling MLM.    Remember, most people in MLM won't even make $10 a month!   It's entirely possible to make $100-$200 a month from filling out surveys.  It will take quite a bit of time, but it's an entirely flexible opportunity – you can fill out a survey whenever you have a spare 20 minutes.
There are hundreds of different survey sites out there.  I've used Swagbucks in the past, and managed to prove that it's possible to make $100 a month from it by sharing my results here.   If you're looking to maximise your income, it's best to sign up for 3-5+ different survey sites.
Blogging and Affiliate Marketing
Blogging is difficult to get into, even more difficult to stick with and extremely difficult to profit from.   HOWEVER, if you do manage to persevere, it can be extremely profitable.  Some of the top "mommy bloggers" make over $100k a month.  Unlike filling in surveys, you will need to use creativity and skill and to make it as a blogger.
Affiliate marketing is where you place links to products on your blog, when someone clicks a link and purchases a product, you'll earn a commission.  Affiliate marketing is how most of the top blogs generate income.  Amazon is probably the best known affiliate program.  You can sign up to their "associates" program, link to any amazon product, and you'll earn commissions from sales through your link.
Tip: if you don't know where to start blogging, why not document your income from filling out surveys.  You'll be able to link through to survey sites such as Swagbucks and whenever someone signs up through your link you'll earn commissions.    A lot of people have started similar blogs, so it'll be hard to compete, but it's a good place to start while your learning about all the different opportunities and niches.
Dropshipping
I'll be honest – I don't know a great deal about Dropshipping.  But I do know lots of entrepreneurs who make thousands every month.  Being a successful dropshipper uses many of the same skills that MLM marketers use so it's a good alternative.
Drop shipping is where you open an ecommerce store.  But instead of holding inventory yourself, orders are sent directly to dropshipping companies, who package and ship the product for you.  You pay a wholesale price for the product and charge a retail price to the customer.
If you really like selling and have always wanted your own store, then dropshipping might be for you.
What I do
These days I spend most of my time trading and investing.  While trading does take time and quite a bit of practice, it does suit the part time, work from home lifestyle.  So if you're looking for a serious alternative to MLM, and you're willing to put in the time and effort, then trading could be for you.  I would recommend starting with copy trading.