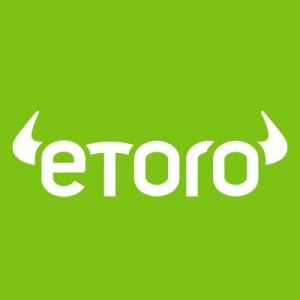 Here is my guide for trading on eToro in 2018.
A lot has changed on eToro over the past year – and a lot has changed in financial markets in the past 12 months.  eToro has also experienced unprecedented growth.  This year, I'm going to round up the best ways to use the platform, the pitfalls to avoid and how to take advantage of new features.
What is eToro
eToro is the worlds leading social trading platform and one of the worlds largest brokers.  The best way to describe eToro is a mix between a brokerage and a social network.  On eToro, traders share the trades they make, and the platform allows anyone to automatically copy these trades.
In my opinion, etoro is the future of investing – why pick stocks on your own, when you can take advantage of the experience and expertise of more talented traders.
Although there are a number of different copy trading platforms, none of them match etoro for scale.  There are over 5 million traders on the platform.
For people who are looking to get into trading, my top recommendation is eToro.  So read on to find out how to use it…
What you can trade on eToro
Forex
This is where it all began for etoro – they were originally a forex broker.  Over the years they've added many more markets for you to invest in.  Forex markets can be very volatile, but that volatility can also be very profitable.  Unless you're copy trading, I wouldn't recommend forex for beginners – it's just too risky.  That's why eToro can be so good, you can still get exposure to forex markets, but through a more experienced trader.
Stocks
eToro added stock trading a few years ago and it completely revolutionised the platform.  eToro offers a huge range of stocks from markets all over the world.  This means that is you're based in Australia, you can easily invest in stocks in the U.S or Europe.  Or if you're European you can now invest in Asian markets etc etc.
All the popular stocks are available as well as stocks in a huge range of different niches such as Biotech and Gaming
Cryptocurrencies 
In 2017 cryptocurrencies went crazy.  eToro has had Bitcoin trading for quite a while, but more recently they have added Ethereum, Bitcoin Cash, Ripple, Litecoin and Dash trading.  This means you can trade cryptos alongside more traditional assets.
Other Markets
On eToro you can also trade commodities (such as Gold and Oil), indices, and ETFs.
eToro has one of the largest selections of markets to trade in and they have a history of consistently adding new markets.  Every year that I write this guide it keeps getting bigger and bigger 🙂
Copying People on eToro
This is what I recommend most people should do on eToro – copytrade!  When you copy trade, you automatically copy the trades that more experienced traders made.  You simply browse through the profiles of traders, and when you see someone you like, click a button, allocate some funds and you're good to go.

Who to Copy on eToro
The trick to having success is finding the right people to copy on etoro.  With over a million traders that you could potentially copy, finding the right people to copy can seem daunting.  So I've put together some attributes you should be looking out for below.
The Stats Page
The stats page is where you'll find all this information.  Don't copy people blind without fully going through their stats page.
Experience
The first thing I look for when copying traders is their experience.  I will only copy a trader who has been actively trading on eToro for more than 12 months.
It's not relatively difficult for a trader to have a positive month or two.  It's much, much more difficult to have a good year.  And you need real talent to return a profit year after year.  This is why you shouldn't copy people who haven't been trading for more than 12 months on eToro.   Hopefully this will help filter out the people who have just been lucky rather than skillful.
Drawdown
The drawdown is the maximum swing from the daily top to daily low (or weekly/monthly/all time etc).  Generally you should be looking for traders who have a drawdown of less than 10%.  A number higher than this means the trader may be trading too high a % of funds and their portfolio isn't diverse enough.
However, depending on your investment goals you may be willing to risk a slightly higher drawdown.  For example in Crypto, it's not uncommon to see markets move more than 10% in a day.
Trades Per Week
I like to copy traders who make at least one trade a day.  But again this depends on the trader.  For example, some stock traders on etoro will only make 1 trade a month.  Generally speaking, forex traders will trade more often, where as stock traders will hold for longer periods.
If you're looking at a trader who mainly trades in forex, and they have less than 1 trade per week, I would look elsewhere.   If that trader, however was mainly making stock trades, I would be happy to copy.

Risk Score
eToro added the risk score a couple of years ago, and it made finding the right people to copy much easier.  eToro calculates the risk score based on the amount of leverage a trader uses and the volatility of the markets they trade in.
So a trader who trades cryptocurrency using high leverage, will be seen as extremely risky.  Where as a trader who trades stocks without any leverage will be low risk.
I like to copy people who have a risk score around 3.  I've never copied a trader with a risk score over 5.  This is because they are using too much leverage.  Leverage potentially increases profits, but it also increases losses if the market goes against you.  So while a trader may have gotten lucky using leverage and made a fortune once, the chances of them repeating that success is small.
Important things to know about copy trading
Here are some answers to the most common questions I get on this blog…
You can stop copying someone at anytime
If you don't like the performance of a trader, you can stop copying them at anytime.  When you stop copying, all the open copied positions will be closed and the money allocated to the trader will now be available for you to use in your account.  This process is pretty much instant.
Traders can't run away with your money
When you copy trade someone, you don't give them any money.  You simply allocate funds in your account.  These funds are used to copy the positions the trader makes.  The copied trader never has your money, it's always managed securely by etoro and store in a third party bank account.
You can remove funds from a copytrade
You can choose to remove a portion of funds from a copy trade.  If a trader has been super successful and you've made a bunch of returns, you may choose to remove some funds, instead of having them automatically reinvested.  You can only remove funds that aren't currently used for open positions.
You should set a stop loss
Set a stop loss so that a trader can't wipe out all your allocated funds.  Even I have copied traders who have turned out to be duds.  A stop loss will protect your funds.
Diversifying your Portfolio
The classic investment advice – don't put all your eggs in the one basket!   This advice holds true on eToro.  This doesn't just mean copy trading more than one person, it means ensuring that your funds are invested across a broad range of markets.
Copytrade more than one trader
All traders have bad months.   That's why diversification is important.  If possible I recommend copying more than one person.  It's a good idea to also copy trade people who are invested in different markets.  So don't just copy trade traders who are invested in cryptocurrency or stocks!
Trading Cryptocurrency on eToro
Cryptocurrency is super hot right now.  eToro recently raised their minimum first time deposit in response to the overwhelming popularity of crypto.  I think they were struggling to handle the huge demand!
As I've mentioned above, you can trade a number of different cryptos on etoro.    My one bit of advice if you do choose to trade Bitcoin or other cryptos is to not use leverage!  The markets are just too volatile.
Investing in CopyPortfolios
CopyPortfolios are a unique and exciting investment product that eToro released in 2016.  They allow you to invest in a range of themed investments in a single trade.  For example, eToro offers a Crypto CopyPortfolio that invests in a bunch of popular cryptocurrencies.  eToro automatically manages the portfolio and makes sure it's rebalanced every month.
Investing in CopyPortfolios requires more capital than copy trading – the minimum investment amount is $5k.  Due to the larger capital requirements I encourage you to do your own research!
Becoming a "Popular Trader"
You may be wondering if there are any benefits for having people copytrade your trades on etoro?  Well as you may have guessed, copy traders get additional compensation based on the number of people who copy them and their performance.
So if you are successfully trading on another forex or stock trading platform, then you could potentially be making another income, by doing the same trading on eToro.
Getting Started
Starting with a Practice Account
Trading is risky.  While I recommend copy trading for most people, if you are look to make manual trades on your own, make sure you start with a practice account.  If you can't make a profit in your practice account, then there is no point risking real money!
A practice account is also a great way to simulate copy trading people.  eToro allows you to copytrade using your practice account.  This way you can try out the interface, and copy a wide range of people to see how well they perform, all without risking any money.
I use my practice account to copy people who I'm not quite convinced are ready to have real money allocated to them.  It's a good way to do due diligence and research before making a commitment.
It's free to create a demo account on eToro and you can switch between a demo and real account at anytime.  And use both at the same time.
Grab a $50k practice account here
Disclaimer: 67% of retail investor accounts lose money when trading CFDs with this provider. You should consider whether you can afford to take the high risk of losing your money.
eToro's Minimum First Deposit
eToro recently raised it's minimum first time deposit to $500.  I suspect this was due to the increased demand on the platform over the past 12 months.  This is only for your first deposit, and you can deposit smaller amounts afterwards.
Fees on eToro
eToro doesn't charge a fee top copy trade or open trades.  eToro makes it's money on the spread.  The spread is the small price difference between the buy and sell prices of an asset.  This is pretty much the standard at most brokers.    You may also be charged a tiny fee on open positions that remain open daily and weekly.  This is usually on short or leveraged positions.
Learning more about Trading and Investing
Investing is a never ending learning curve.  The more time you put in the better results you'll have over the long term.  Here are couple of things to help you on your investing journey:
Get trading ideas for TradingView
I've started using TradingView over the past year and found it to be an excellent resource.  TradingView is a platform where traders can share trading ideas.  Most of these ideas are based around graphs and technical analysis.
Subscribe to my Newsletter
I have a newsletter that I publish every now and then.  It contains the traders that I'm copying and the investment trends I'm following.